Again, the smaller pics are linked to the hi-res versions.
Vig and Georg checking out my painting
Signing my book the 2nd time through the line....Georg looks like he recognizes me and thinks I'm nuts!! *g*
Since we were some of the last to go through, we got to see Georg and Vig celebrating the end with a toast!
~*~*~*~*~*~*~*~*~*~*~
Here are just some random gorgeous pics of Viggo as he wandered through the crowd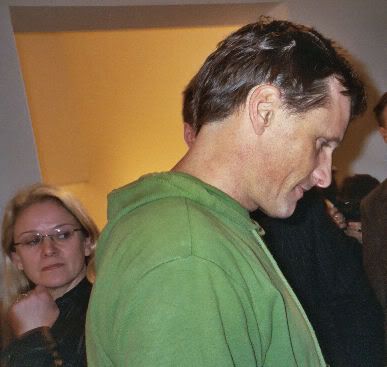 And now, the pic that probably won't mean anything to any of you, but means everything to me......THE HUG!!!
It still feels so much like a dream, but now I have this to look at to prove to myself that Viggo really did hug me! God, I love that man.....
I was just going to add THE HUG pic to my earlier post, but so many of Mom's pics on this roll were too awesome not to share. I still have a few more left on a roll in my camera, but they probably won't be very good. Also, my dear friend Terri managed to catch a wonderful pic of Vig looking at the painting I gave him. Thank you so much hon!!!!!
Current Mood:

bouncy

Current Music:

King Kong Soundtrack